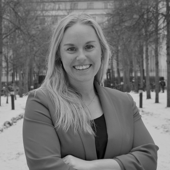 Frida Björkman
HR Project Manager – Keystone Education Group
How did you land your job at EMG?
– I started working here during the summer of 2016 when I was ready for a new challenge. I was looking for a role where I could grow within an HR department and where I had the opportunity to think creatively and outside-the-box. I was also looking for an international company where I would be inspired by the company's vision. After my first interview with EMG, I fell in love with the company and I really wanted to be a part of helping everyone in the world find their education. For me, it was more a question of "when" I could start, rather than "if" I would start.
What is the best thing about EMG?
- The atmosphere at EMG is the best part! It's fun working here and it really feels like we are a family! Our company has a culture of thinking creatively every day and we encourage new ideas and initiatives which I love! I also appreciate that we are a fast pace company who take quick decisions and are attentive and flexible for changes in the market. It makes it exciting to work here since you never know what it about to happen. 
What excites you about working at EMG?
– What I appreciate most with EMG is probably the feeling of going to work and not knowing what will happen. Because we are a flat organization, quick decisions take place and I think that makes your days exciting. It is important to be attentive, flexible and to be able to adapt. We also encourage new ideas and if you want to run a project on your own, that's not a problem. Something else that excites me about EMG is all of the colleagues and friends who you get to spend time with in the workplace daily. People are constantly inspired and motivated by and it is an important feature of why people want to work at EMG.


Favorite EMG core value and why?
- Performance is my favorite! I know there are people who don't think HR can have KPIs but I think otherwise. There are lots of ways to measure performance as a HR department and I'm really glad that we are doing so in our team. I love that we have goals to reach and that we follow up results on a regular basis.